HFS FAQ's
Here is where we will answer all of your burning questions
What does HFS do?
We do everything, from expendables to location rentals to camera and grip rental to a 5 thousand square foot studio, we are your one stop shop for everything film!

Does HFS make movies?
Unfortunately, HFS does not make movies. We are just a one-stop-shop for everything you may need while you make your movie, including studio space, camera and grip equipment, locations gear and expendables!

What do you rent?
We rent a ton of things here at HFS!

We rent our two studio spaces, Studio A and Studio B. We also rent location gear, licensed artwork, and some camera gear as well!

If you aren't sure we have what you are looking for, shoot us an email. Even if we don't carry it we will do our best to find a way to bring it in for you!

Do you rent to small productions?
Absolutely! We love renting to small productions, our goal is to support creatives of all sizes.

We do our best to work with you to accommodate almost any size budget.

Is there parking at the studios?
Yes! HFS has lots of available parking both in front of our studios as well as beside our retail store.

We also rent out parking spaces both indoor and outdoor for productions when we have the availability in our lot. If you are interested in parking at HFS or want to check the availability of parking, reach out to us, we would be happy to help!

What can be filmed in the studio?
That much is up to you! With 5000 square feet of space, our Studio A is extremely versatile and we have had it transformed into many different environments.

The studio becomes even more limitless with the setup on a greenscreen backdrop!

Studio A also has large garage doors opening to the parking lot, that allows accessibility to cars and vehicles to be parked in the studio.

How do I get the gear / do you deliver?
Stop by our Studio A location to pick up your order, and a friendly face will help you load your gear. Please inquire about deliveries; a reasonable fee will be applied for all deliveries within Hamilton and the GTA
How much do your rentals cost?
It all depends on what you are looking to rent, but we do like to keep our prices competitive and fair!

How do we rent your artwork?
Contact us about which piece(s) you are interested in, and we will promptly send you a quote! Pop into the shop for an in-person look. All licenced artworks are decorating our walls

What has been filmed at HFS?
Tons of shows/ productions have found a home in our studio!

We have had such musicians as: Walk off the Earth and Red Hill Valley.

We have hosted series such as: Hardy Boys, Pink Is In, and Homicide: Hours to Kill. And maybe soon we will have your upcoming project?

How do you get in contact with us
Shoot us and email at hfs@hamiltonfilmstudios or give one of us a call at +1 (289) 768-7879. We want to hear from you and we do our best to get back to people as fast as possible!

What is your preferred form of communication?
Whatever your preferred method is, we'd love to talk to you!

Which building is HFS?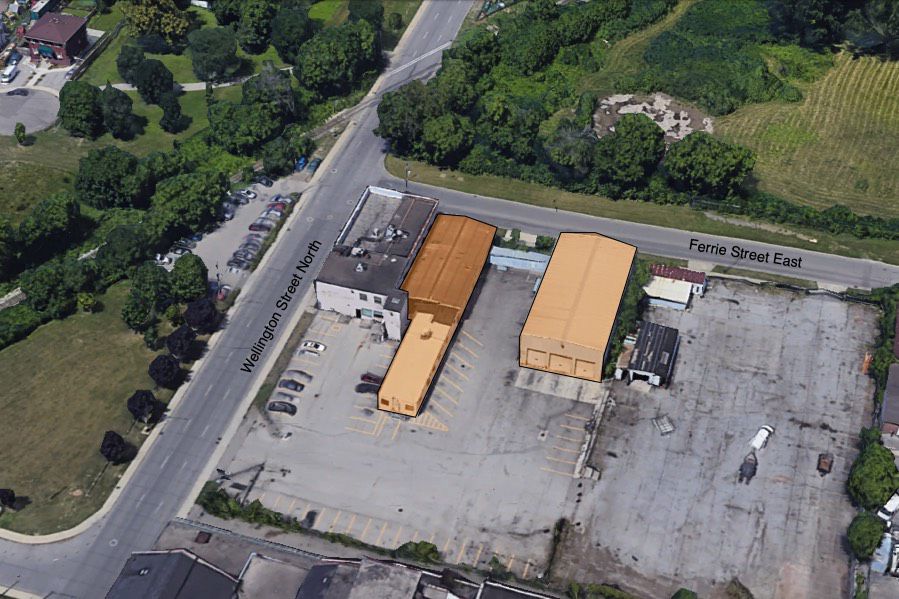 When and how did HFS start?
HFS opened its doors to the industry in 2019, but the idea of the expendables/rentals/studio hybrid was born 8 years prior. A hole was noticed in Hamilton for accessibility to basic filmmaking needs. We thought "Why are we driving an hour away for a single roll of gel? Let's fill that gap, and make it more convenient for local filmmakers to create!"
What makes HFS different from other film studios?
We are Hamilton's one-stop-shop for all things film. The bottom line does not define us; we are here to expand the reputation of Hamilton's film industry. We source in as many local and/or Canadian vendors as possible to our retail shop. The city is booming for film, and we want to assist in its growth in any way we can.
What methods of payment do you accept?
We accept all methods of payment, including e-transfer, cheque, debit, or credit. A small 3% fee will be added for all credit card transactions--sorry!