BOD SAN 2.5 Fogger Sanitizer / Disinfectant Fluid - 4 Liter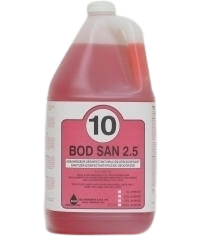 BOD SAN 2.5 Fogger Sanitizer / Disinfectant Fluid - 4 Liter
---
For use with the Sanitizer/Disinfectant Fogger. Ready-to-Use -- do not dilute!
---
Health Canada Approved Against Covid-19
Ready-to-Use with our Sanitizing Fogger -- no need to dilute!
Even though this is a "food safe" product, HFS always recommends using a basic mask, gloves, and eye protection when dealing with any cleaning fluids.

Click here for our Sanitizing Fogger available to rent!

Kills all bacteria, spores, and viruses

Can be sprayed, mopped, and fogged without harmful reactions

DIN Certified by Health Canada


Can be used to disinfect hands and surfaces

Interested in how long a 4L jug will last? Head on over to our Sanitizing Fogger rental page and see the discussion at the bottom of the page! Fun stuff.