Commando / Duvetyne Cloth FR - 16 oz - 54"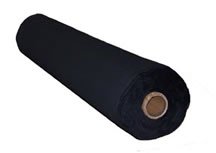 Commando / Duvetyne Cloth FR - 16 oz - 54"
---
Fill your cart then pay online or in-store!
(instructions provided during checkout)
Pickup in as little as 2 hours.
Commando Cloth

Ironically, you *could* make underwear with it.

And they would be Flame Retardant and opague, though too weighty. Because this is a durable drapery fabric better suited to blocking out windows and being used as a backdrop, as compared to sewing undergarments.
This widely-used fabric is 100% cotton, and weighs about 1.1 lbs per linear yard.
Price breaks are provided at 25 and 50 yards.
The black comes on 25 and 50 yard bolts, and the white on 20 yard bolts. When purchasing, be sure to let us know if you need a single continuous length of fabric. Other colours may be available, too.

| | |
| --- | --- |
| Colour ($ diff) | Black , White |